The Unity Service this Sunday, January 20th, has been pushed back to 11:00 a.m. to allow for the parking lot and walks to be cleared.  Please join us then, and bring a friend!
Welcome to the Central Presbyterian Church website! We are glad that you have found us! As you explore this site, you will find a lot of information about our congregation. I welcome you to connect with us in any way that suits you. Among the possible connections, you can:
watch live broadcasts of our worship services on local cable TV, Channel 33 on Verizon FIOS, and Channel 36 on Comcast Sundays at 10:00 a.m. with a re-broadcast at noon. We also broadcast our WAVE services and TV show Chaos to Calm during the following time slots: Monday, Wednesday, and Friday at 3:00 p.m; Tuesdays and Thursdays at 9:30 a.m.; and Sundays at 7:00 and 9:30 p.m.
participate in any of our ministries
worship with us on Sunday mornings (services at 8:30 and 10:00 a.m.) or select Sunday evenings at 5:00 p.m. at WAVE
watch our Parish Associate, Rev. Noelle Kirchner, in her parenting TV series, Chaos to Calm
read our weekly Staff Blog (below)
Central Presbyterian Church is happy to announce the grand opening of the Central Arts Academy! This performing arts school is open to the public for private instruction and is committed to education and freedom of artistic expression.  Click here to visit their website.
May Christ enrich your life with all God's grace! –Rev. Don Steele, Senior  Pastor
Looking to make a special donation for 2018?  Read about year-end giving HERE.

Staff Blog
TEACH YOUR CHILDREN WELL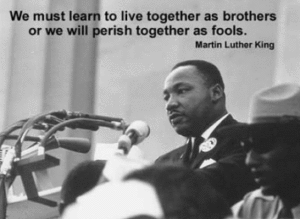 I remember vividly to this day the night that the Rev. Dr. Martin Luther King, Jr was murdered. I was 9 years old at the time, and I was in the living room of our house, lying on the floor, watching television. My mother was there too, sitting in a chair behind me, doing something, I am not sure what, but not really watching the television. They "interrupted regular programing" with the announcement, and from behind me, I heard my mother gasp. I turned, and tears were beginning to form in her eyes. "Oh no!" she said. "He was such a good man." And her reaction that night taught me something important. My mother, raised in rural Kentucky, a preacher's kid who was, in my childhood, the most Christian person I knew, she knew the tragic loss.
I think that we parents have an influence on our kids, which I think, while it is kind of scary, is also good news. For we live in a world where there is so much bad behavior from folks living life in the spotlight. Folks do things and say things, claiming to be Christian, that seem to be antithetical to everything Jesus taught, but we are not helpless. We parents have a tremendous influence on our kids. What we say, how we act and react has powerful impact on the values that will shape how our children live their lives.
This Sunday, January 20, at Central is not just any Sunday. This is the Sunday, every year, when we hold our Sunday morning worship service with Fountain Baptist and Wallace Chapel AME Zion. If you are a parent, it is the kind of thing that you need your children to experience if you want them to grow up to value other human beings despite our differences in race and religion. I hope that you will teach your children well and feed them on your dreams, dreams that came to you from an ancient past, dreams of living with everyone as one family of God.
–Pastor Don Steele