Welcome to the Central Presbyterian Church website! We are glad that you have found us! As you explore this site, you will find a lot of information about our congregation. I welcome you to connect with us in any way that suits you. Among the possible connections, you can:
watch live broadcasts of our worship services on local cable TV, Channel 33 on Verizon FIOS, and Channel 36 on Comcast Sundays at 10:00 a.m. with a re-broadcast at noon. We also broadcast our WAVE services and TV show Chaos to Calm during the following time slots: Monday, Wednesday, and Friday at 3:00 p.m; Tuesdays and Thursdays at 9:30 a.m.; and Sundays at 7:00 and 9:30 p.m.
participate in any of our ministries
worship with us on Sunday mornings (services at 8:30 and 10:00 a.m.) or select Sunday evenings at 5:00 p.m. at WAVE
watch our Parish Associate, Rev. Noelle Kirchner, in her parenting TV series, Chaos to Calm
read our weekly Staff Blog (below)
Central Presbyterian Church is happy to announce the grand opening of the Central Arts Academy! This performing arts school is open to the public for private instruction and is committed to education and freedom of artistic expression.  Click here to visit their website.
May Christ enrich your life with all God's grace! –Rev. Don Steele, Senior  Pastor

Staff Blog
by Rev. Deborah Huggins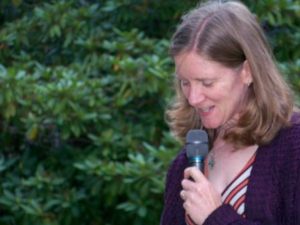 On Sunday morning, a group of Sunday School teachers and parents gathered with Pam Robertson to learn about how we can connect with our breath. Pam taught us about using a breath prayer to help us pray without ceasing and she encouraged us to remember that God's breath is in each one of us. The class brainstormed about ways that we can help kids learn to breathe – but the part of the class that I connected with most profoundly was praying with our bodies.
Pam had us reach up our arms toward God, and then bring God's breath into our hearts. She had us reach out to the world around us, and then reach down to remember our rootedness in God- the movement was so simple, and the affect in my body was profound. I could feel my spirit lifting toward God, and I could feel my soul reach out to those around me – and I could feel the deep rootedness that God offers me – that God has available to me all the time.
This practice of body prayer isn't very familiar to me. On Sunday, this prayer helped me move out of my head – with all of my to-do lists and schedules and lists – and helped me move into my heart and into God's love and care.
As parents and people who love young people – people who take vows at baptism to nurture children – I think that helping kids feel God's love and presence is a powerful way to help them navigate the pressure of school friends, schedules and expectations. Whether it's a tool like breath prayer or body prayer, or just taking a minute to remind your kids that they belong to God- that they are beloved – God's presence and God's love, and God's call to care for one another can be a refuge for our kids.