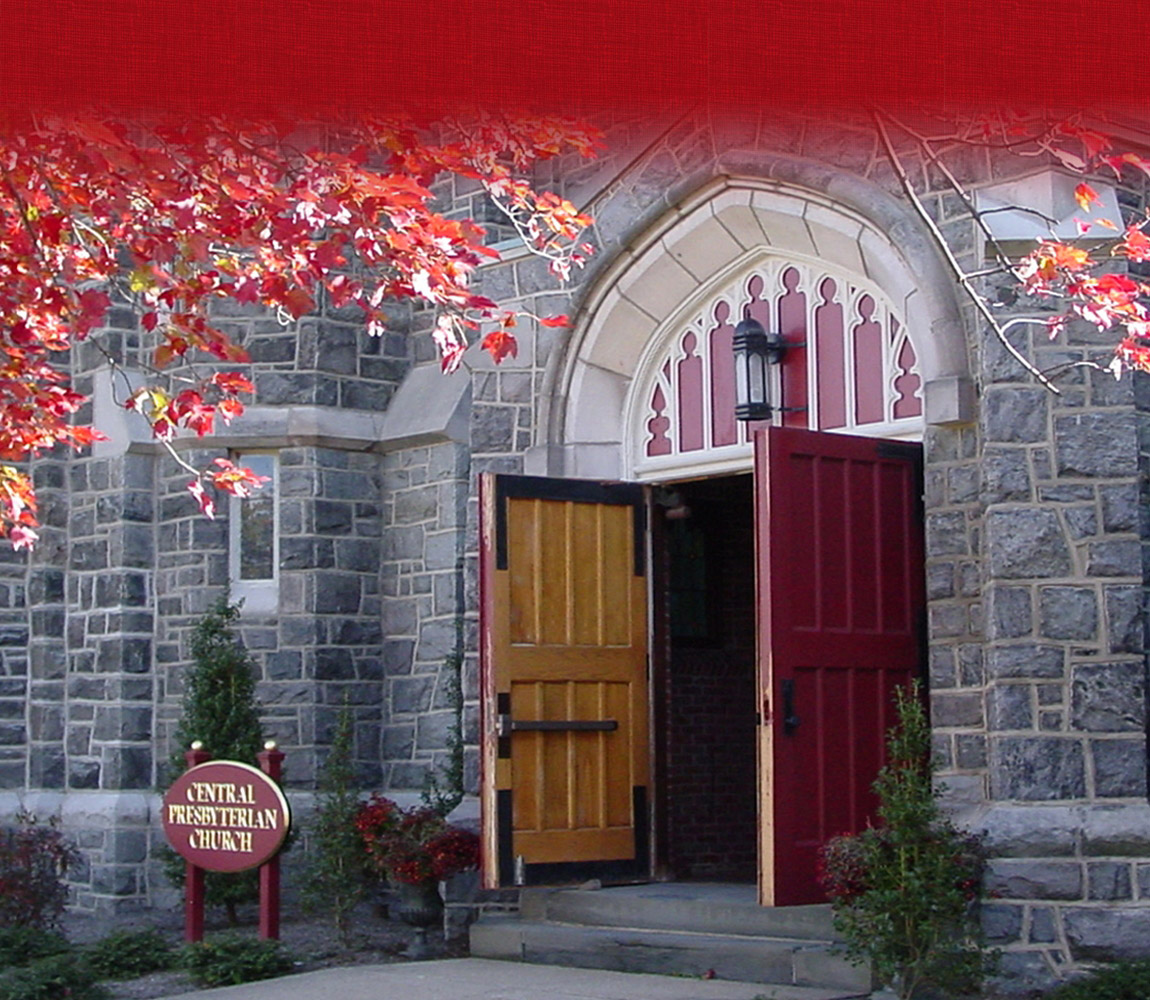 Central is worshiping in-person at 8:30 and 10am each Sunday, as well as virtually.  Scroll down for details.

OUR MISSION AT CENTRAL PRESBYTERIAN CHURCH
By God's grace and the leading of the Holy Spirit, Central Presbyterian Church seeks to
Engage one another in a transforming and worshipful relationship with Jesus Christ;
Equip disciples for Christian fellowship, growth, and service;
Extend Christ's love to the world!
What's Happening Now At Central Presbyterian Church
Upcoming Worship
We invite you to attend worship in person in the Sanctuary  at 8:30 and 10am each Sunday. 
WAVE, Central's contemporary worship service, is held outdoors when the weather permits, and in the church auditorium when it doesn't. WAVE will meet on the first and third Sunday of each month at 5 pm on October 1 and 15, November 5 and 19, December 3 and 17.
 The entire main floor of Central Church is handicapped accessible via the glass doors facing Elm Street (our main entrance).  The Sanctuary is equipped with an audio-assist system for those with hearing difficulties.
World Communion Sunday: Bakers Needed
Sunday, October 1, will be World Communion Sunday, when Christians all over the world celebrate Communion together.  We are looking for several volunteers to bake goods for our celebration – breads, cookies, desserts that represent different areas of the world.  Please visit here to sign up: https://www.signupgenius.com/go/10C0848A5A929A0FC1-baking

Visit Our Nursery School's New Website
Central's school, CPC Weekday Nursery School and Kindergarten, has a fresh new website!
Free Concert: October 8
Please join us for an afternoon musical treat on Sunday, October 8th at 3pm! Our Sunday morning choir leaders will all be gathering together to put on a concert that brings you tunes from the movies, including Disney favorites, Golden Age classics, and other songs we all love from the movies!
Soloists include Colette Boudreaux, Isabella Cacciottolo, Jaylen Gray, Gillian Hassert, Bridget Maresca, Elizabeth Perryman, & Matthew Rodriguez.
This concert is free and there will be a reception following. We hope you join us!
Pumpkin Festival: October 29
Celebrate the autumn on Sunday, October 29, at Central's Pumpkin Festival!  With special pumpkin crafts during Sunday School, the day also brings a Pumpkin Hunt (like and Easter Egg Hunt) on the church lawn (indoors if it rains) after worship, a photo booth, and a special coffee hour.

New Member Orientation: November 5
Interested in learning more about Central Church?  You are invited to a New Member Class on Sunday, November 5, at 9:15am.  Come meet the pastor and members of Session, ask questions, and be offered the opportunity to join in membership.  Call the church office at 908-273-0441 to RSVP.
Blessing of the Animals at WAVE: October 1
Bring your appropriately restrained pets for a special blessing at Central's contemporary worship service, WAVE, on October 1 at 5pm.  The service will be held outdoors if weather permits, and in the church auditorium if it doesn't.  The Central Praise Band will provide music, and a free supper will be served.

Senior Lunch Bunch: October 8
The Senior Lunch Bunch is a group of seniors that gather monthly for food, fun, and fellowship at a luncheon following Sunday worship.  Everyone is welcome!  Fall dates include October 8 and November 12.  The cost is $5 per person.  Please RSVP to Donna at dmorgansteele@comcast.net.

Fall Study on "Sermon on the Mount"
This fall, beginning Sunday, October 1, and continuing for six weeks through Sunday, November 5, you will have an opportunity to engage with Dr. Amy-Jill Levine when we spend six weeks looking again at Jesus' Sermon on the Mount through the lens of her recent book, Sermon on the Mount: A Beginners Guide to the Kingdom of Heaven. The book reads like Dr. Levine sounds—funny in places, passionate, easy to follow. However, we are also going to offer you the opportunity to hear Dr. Levine directly through a DVD that she produced.  I hope that you will be a part of this, for in focusing on the Sermon on the Mount, we are focusing on some of Jesus' "greatest hits" as a teacher through which Jesus provided us with a roadmap, of sorts, for how God wants us to live.  Join in the study in the Boardroom at 11:15am – purchasing the book is optional.

Children and Youth Choirs and Bands
The Children's Choir, under the leadership of Dr. Charity Wicks, rehearses on Sunday mornings at 11:00 a.m. beginning on September 24. Feel free to drop in to the Music Studio (located behind the auditorium) to check it out!
Middle Schoolers are invited to join Crashing Giants, a band for vocalists and musicians. Rehearsals will be Wednesday evenings beginning September 27 at 5:00pm in the Music Studio (behind the auditorium).
High Schoolers are invited to join the High School Praise Band, which rehearses on Thursdays beginning on September 28 at 7:00pm in the Music Studio.
Both groups are lead by Adam Gilbert, and perform in worship at various times during the year. Contact Adam with any questions at AGilbert@centralpres.org.
Central Presbyterian

Ministries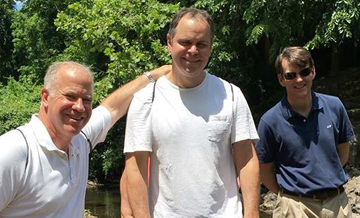 Adult Ministries
Our Adult Ministries are involved in many events around the Summit area.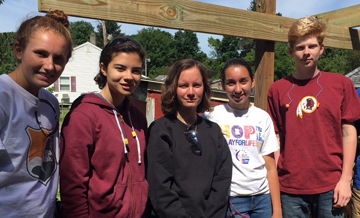 Youth Ministries
See what our Youth are up to! Fun, games and learning to apply the Word in their daily lives.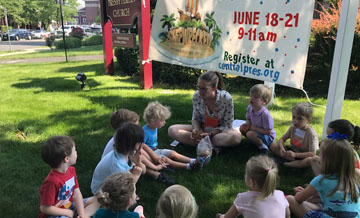 Children's Ministries
Sunday School, Club 4-5 and nurshery are ongoning ministries for your child or toddler.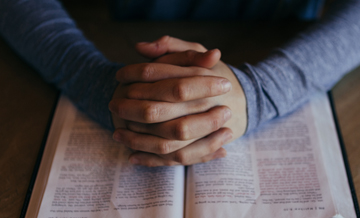 Spiritual Development
Grow your spiritual relationship with Jesus using these ministries.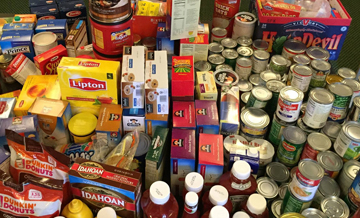 Missions
These ministries help you to reach out to others in your daily activities.
Central Presbyterian

Staff Blogs